Wondering where to buy a bicycle in Singapore, girls? Here are the best shops in town!
Bicycles are a wonderful way to get around Singapore, not to mention spend quality outdoor time with your loved ones on one of the island's many fab bike paths or park connectors. Whether you're nipping around the 'hood running some quick errands (we'll take bike racks over the hassle of parking garages or taxi queues any day!), commuting to work, or doing some hardcore mountain biking on the weekends, there are heaps of reasons to snag yourself some 2-wheeled transport, girls. Here's our guide to the best bike shops in Singapore!
Specialty Bike Stores
With road bikes, mountain bikes, cool cruising "city bikes", kids bikes and all the accessories you could want, this duo of shops in River Valley and Bukit Timah is a Singapore cyclist's paradise. The Bukit Timah location even offers a handy bike rental service that allows you to book online (and hit up the nearby Green Corridor)!
BYX, 403 River Valley Road, Singapore 248301, (+65) 62355221 and 6 Hindhede Road, Singapore 589242, Tel: (+65) 6469 9614, www.byx.com.sg
Prefer shopping online? This is the most popular online bike shop in Singapore with a wide range of styles to choose from, including road bikes and foldable bikes available for under $200. They even offer handy free delivery!
Bicycles.SG, www.bicycles.sg
Serious cyclists head to this exclusive seller of Cannondale, one of the premier bicycle brands in the world. The Frankel shop in Siglap is also a triathlon training centre, and you can check out the online store if you want to do your research before visiting the shop.
Cannasia, 83/85 Frankel Avenue, Singapore 458211, Tel: (+65) 6441 4772 and 33 Ubi Avenue 3, #01-20, Singapore 408868 Tel: (+65) 6570 0634, www.cannasia.com
We love the vibe at this cool bike shop / cafe in Siglap that's all about promoting a healthy lifestyle and fostering community. We also like their handy online chart comparing all their different bikes.
Coast Cycles, 54 Siglap Drive, Singapore 456176, Tel: (+65) 6448 7608, www.coastcycles.com
If you're keen on a cool city bike for cruising around or running errands, this hipster haven near Bugis is just your spot! Top bicycle brands on offer include Creme and Linus, with lots of great accessories to boot. Hello Bicycle also offers a rental service, and their convenient location is ideal for exploring the nearby river and historic sites.
Hello Bicycle, Byland Building, 135 Middle Road, #01-01, Singapore 188975, Tel: (+65) 6333 0054 and 261 Waterloo Street, Waterloo Centre #02-03, Singapore 180261, www.hellobicycle.com.sg
This mainstay in Chinatown (dating all the way back to 1968!) offers a nice range of road bikes, city bikes and mountain bikes – including top brands like Jamis, Selle Italia, Nite Rider and more – at a variety of price points.
Hup Leong Company, 51 Chin Swee Road, #01-107 Singapore 160051, (+65) 6532 3700, www.facebook.com/hupleongco
Another shop for serious cyclists that specialises in the high-end mountain bike brand Scott, but also carries heaps of hardcore accessories and kids' bikes as well. Watch for their occasional warehouse sales to score some deals!
Kian Hong Cycle, 33 Ubi Ave 3, #01-07 Vertex Singapore 408868, (+65) 6509 4567, www.facebook.com/khcycle
Calling themselves "Singapore's folding bike specialists", Mighty Velo is all about urban mobility. The shop carries a wide range of folding bikes – highlighted by top brand Brompton – along with premium accessories from Europe, Japan and beyond.
Mighty Velo, 239 Lavender Street Singapore 338783 Tel: (+65) 6396 6280/6396 6281, www.mightyvelo.com
With East Coast and Bukit Timah locations, T3's passionate, knowledgable staff offers a truly personalised experience to bike lovers. The shops carry a range of top road bike and mountain bike brands, and you can also score some major deals with their pre-owned selection!
T3 Bicycle, 79 Upper East Coast Road, Singapore 455219, Tel: (+65) 6441 6828 and Sixth Ave Centre, 805 Bukit Timah Road, #01-13, Singapore 279883, Tel: (+65) 6466 4224, www.t3bicycle.com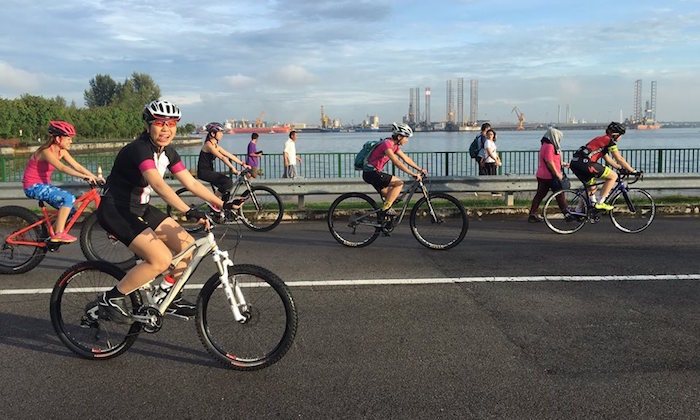 We like that Tay Junction has got a dedicated women's section to complement their wide range of mountain bikes and road bikes.
Tay Junction, 733 Bukit Timah Road, Second Avenue Junction, #01-04, Singapore 269748, Tel: (+65) 6466 9535 and 33 Ubi Avenue 3, Vertex, #01-18/19, Singapore 408868, Tel:(+65) 6636 9731, www.tayjunction.com.sg
If you're keen on all-around fabulous bicycle brand Trek, this is obviously your place, although Treknology 3 actually carries a wide range of brands at its five shops, highlighted by more than 400 bikes on display at their 10,000 square feet "Mega Showroom". They're another one that has many Women-Specific designs!
Treknology 3, Mega Showroom at 14 Jalan Kilang Barat, Singapore 159356, Tel: (+65) 6273 8616, other locations at Tanglin, Sembawang and East Coast, www.treknology3.com/singapore